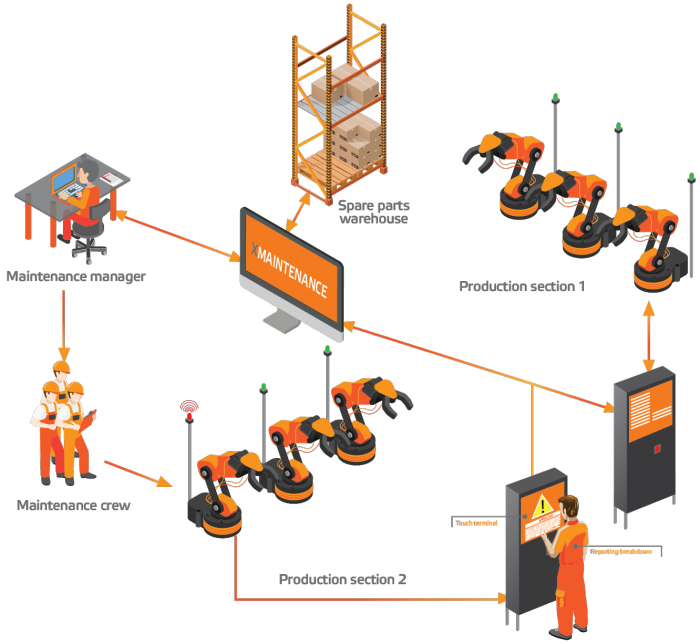 The smooth operation of machines and timely reaction in case of a breakdown are the foundations for an effective production in every industrial enterprise. XMAINTENANCE provides a wide range of complex tools for successful maintenance management applicable in every manufacturing.
The main goal of the system is to improve the manufacturing processes and reduce the time needed to detect, report and repair breakdowns as well as to ease scheduled and preventive repairs. Every machine can be linked with the system and its current status is visible in real-time. If a breakdown occurs the maintenance manager immediately receives a notification and the information needed so that the repairs can start immediately.
Every registered breakdown and problem are recorded and can be analyzed at a later time in order to have statistical data for the most common types of problems, their origin, and used spare parts. In long term this helps to localize problematic areas in the production and improve preventive maintenance.
Functionalities
Real-time information on the status of every machine;

Report breakdowns and their types through a local touch terminal;

Track the spare parts quantities for every machine;

Set deficit values for each spare part;

Immediate notification if a breakdown occurs;

Calendar with events for better preventive maintenance.
  Benefits
Faster reaction if a breakdown occurs;
Improves preventive maintenance;
Real-time information for all machines greatly reduces reaction time;
Unified database with all machines, parts and documentation;
Gather and analyze statistical data for breakdowns;
Reports for lost operational time due to breakdowns for every shift, machine and production site.