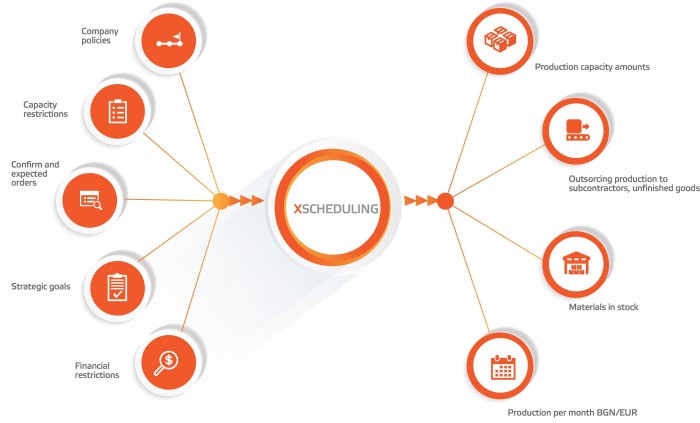 XSCHEDULING is a new generation tool for effective long-term and short-term production scheduling and rescheduling. After the orders are received and put in the system, they are automatically sorted and grouped by similar parameters. The system then generates a simulation of the production schedule and execution sequence in a way that optimizes the material usage and equipment configuration for each order. Afterwards the schedules are automatically sent to the designated work centers and equipment and production can begin. Moreover XSCHEDULING calculates and reports the conversion of materials, eventual scrap and you have the possibility for further manual adjustments for maximum efficiency.
The result from employing XSCHEDULING is a reduction of the total time needed for completing an order which allows for more orders to be processed in a shorter period of time.
Functionalities
Grouping similar orders and organizing the sequence of operations.

Generating production schedules and route maps.

Automatically sending the production schedule to the respective work centers and machines.

Tracking the conversion of materials into products and waste/scrap.

Order prioritization and sequencing.

Planning machine setup times.

Allocating the optimal quantity of resources to the respective production capacity.
  Benefits
Autonomous generation of optimized production schedules and dispatching them to the designated work centers eliminates the need for an operator;

Increased revenue and market share through quality products with reduced production time;

Increased production capacity by reducing production time;

More efficient use of materials;

Reduced stockpiles;

More efficient use of labor, equipment and materials;

Improved customer satisfaction by timely deliveries of higher quality products;

Possibility of immediate action in case of order changes;

Reduced cost of the end product by reduced manufacturing costs;